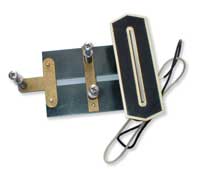 With great excitement we are now pleased to offer one of the most sought after pickups in guitar history, the Charlie Christian. Our goal has been to make an exact replica of the almost mythical pickups coveted by guitarists the world over.
We are proud to call this the reintroduction of the Charlie Christian pickup.
The Process
7 original Charlie Christian pickups (of contrasting years but the identical model) were painstakingly stripped then each part was analyzed and reconstructed to the exact match specifications. After this process we started the all important sound comparison tests. The conclusion is that our pickups are an identical match in sound reproduction to the average sound taken from a cross section of our 7 original pickups (the difference is often loss in magnet strength (over time) and inconsistent hand wound coiling (standard to Gibson's techniques).
Long thought to be unobtainable you now have the opportunity to use one of the most sought after pickups in guitar history, giving you the authentic Charlie Christian sound once again.
The process of re introducing these pickups back onto the market has been a long one, involving sourcing pre-war materials from all over the world and ensuring the specifications between the originals and the current pickups are as similar as we could make them.
This Pickup has been unobtainable for nearly 70 years but now we are pleased to offer you the chance to buy them directly from us.